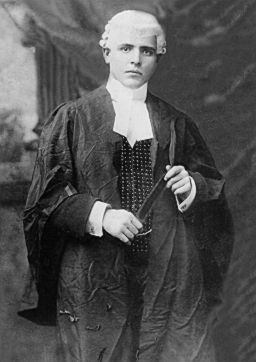 Manuscript
(authored c1940s)
~ Webmaster's note
A short visit to the island of Montserrat after the Hurricane of 1899 enticed the author to collect materials for a work that would supply historical and other interesting data in the dual form of a readable treatise and a hand reference book. The devastation of early wars, particularly in the Leeward Islands, social conflict and natural disasters were an additional motivation to document its early history and his personal experiences.
The passing of an English Act in 1705 in which the preamble forestalls such 'unforseen accidents' including the loss of legal records of Montserrat together with patents, deeds, and (court) evidences which could jeopardise future claims. As a result in the early 1900s, the Colonial Office of Downing Street ordering that all ancient records of the Island of Montserrat down to the year 1871, be removed to London.
The author draws on extracts taken from the old local laws and public records to explain a multifaceted society he describes the diverse cultural and commercial activities of life on the Island of Montserrat from about 1661 to the early 19th century, and of its loyalty to the 'Empire'. In his own words "This small work will have obtained its object if it will have at least lay the foundation for some worthier hand to compile a larger and more erudite production on the colony of the Leeward Islands".
Unfortunately the work ends abruptly at Chapter 8 suggesting some missing pages, should these come to light they will be included in this document. To read the original document click on 'Manuscript menu' start at 'Forward'
George Ignatius Mendes was born on the island of Antigua, West Indies on 9th August 1878. He was educated at Antigua grammar school and Fordham University, Manhatten College, New York. He was called to the bar and invested as a barrister at Gray's Inn, London, England in 1900. During the years 1910, 1911 and 1912 he was appointed acting Maqistrate and deputy judge of the Summary Court on the island of Montserrat, West Indies. In 1911 and 1912 he was appointed acting member of the Montserrat Executive Council; Justice of the Peace and in October 1911 visiting justice of prison.
On 17th February 1912, he was appointed to additional judicial positions including Magistrate of District 1; Deputy Judge of the Summary Jurisdiction Court; Registrar of the Supreme Court; Provost Marshall; Coroner and Registrar of Titles. During the year 1912 at age 34 he was appointed a Member of the Legislative Council and on 2nd November 1912 as a Member of the Executive Council. In 1913 he was appointed as Chairman of the Public Library Committee; Chairman of the Permanent Exhibition Committee, and in August and October 1913 acting commissioner on the island of Montserrat. George Ignatius Mendes died at St John's, Antigua in 1944.
Origin; Foreign and Colonial Office, London, England, United Kingdom. Newsclip, probably 'The Times of London' c1944